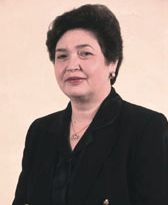 Eugenia M. Tsarov

Title: Professor: Piano
Department: Crane School of Music
Phone: 2409
Fax: 2413
E-mail: tsarovem@potsdam.edu
Office: Bishop Hall C118

Eugenia Tsarov is a renowned Russian-born pianist, earned her Diploma with Distriction from the St. Petersburg State Conservatory of Music and previously taught piano and chamber music at the Gnessin Academy of Music in Moscow for 18 years. In 1968 she won the prestigious Soviet National Piano Competition and was appointed pianist of the Moscow State Philharmonic Society, the most pretigious concert management organization in Russia. Since immigrating to the US in 1991, Ms. Tsarov has continued her perforning careeer with three tours of Spain, performances at the United Nations and the Merkin Concert Hall (NYC) along with performances throughout the Northeast, Texas, Vermont and Canada. Since 1994 Ms. Tsarov has been teaching studio piano, "The Art of Accompanying" Seminar and chamber music at Crane while maintaining a busy schedule of workshops and masterclasses.